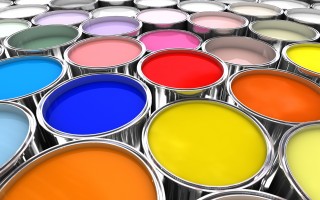 Harper Inc. is a proud supplier of the full line of Fluid Management automatic and manual dispensers. Fluid Management is the leading equipment makers for manufacturing and retail paint applications. The Fluid Management family of dispensing products are designed for low maintenance  and provide your customers with more accurate and consistent color, creating life long customers. Whether you are using a countertop manual dispenser or the latest fully automated dispensing equipment, Fluid Management backs its products with fanatical support and service that is second to none.
The Fluid Management line of automatic dispensing equipment all include high quality components built to tolerances that exceed those of the rest of the industry. The Fluid Management pump technology offers several advantages over other manufacturers:

Fluid Management's DVX Pump technology dispensing technology. This revolutionary pump design allows Fluid Management to offer the first low maintenance automatic colorant dispenser.
Fluid Management, with its network of service professionals can offer up-time no other company can deliver. The FM Direct service group can be at your door in most situations in hours, not days like with the other guys.

Fluid Management's manual dispensing equipment is built to last. With a selection of configurations that offer a nearly unlimited number of custom configurations, there is no need to buy something that is "almost" right for your company.Our configurations feature options such as:

Stainless steel or synthetic canisters
Solvent resistant valves
Dual pump options
Large capacity canisters

The list of available options goes on and on. We can customize a solution to fit any manufacturers colorant system. Specialty manufacturers trust Fluid Management to deliver the exact solution that best fits their products. See the wide range of solutions at the link below.

 See all automatic dispenser options: Automatic Dispensers
 See all manual dispenser options:  Manual Dispensers

All logos, trademarks, and registered trademarks are property of their respective owners. Harper Inc. is the exclusive supplier of solutions by Fluid Management to the independent hardware retailers industry the world over. Contact Harper Inc. today with questions about any Fluid management products.