Economical Color Matching Without Compromise
The W50 Series is a complete solution for high-volume retail color matching operations. The series features the CF57, with a 45°/0° measurement The CF57 along with ColorDesigner PLUS Software, offers a versatile color matching package, al­lowing for quick and easy color matching for retailers. Along with a computer, monitor, and label printer which are also available in some packages, the W50 Series adds value to your customers paint matching experience that keeps them coming back and ensuring a fast payback on your investment.
0/45 Spectro Technology
0/45 technology is the preferred geometry for most hardware dealers. Not only does it offer a great color match but the construction of the unit allows for years of use in dusty and other harsh environments.
This is the right choice for most hardware retailers, as it requires little servicing.
Available Packages: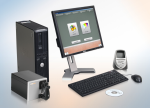 W53T
Featuring:
ColorDesigner PLUS Software
CF57 Spectro
17" Flat Panel Monitor
Dell Computer, Keyboard & Mouse
DYMO 450 Turbo Label Printer
Part # W51      Request Quote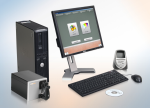 W54T
Featuring:
ColorDesigner PLUS Software
CF57 Spectro
15" Touch Screen Monitor
Dell Computer, Keyboard & Mouse
DYMO 450 Turbo Label Printer
W50 Series Downloads
W50 Series Videos