Go where the color is!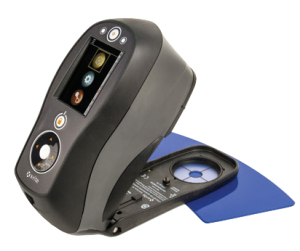 Contractors and paint retailers know time is money, and the Ci61 spectrophotometer is just the tool to reduce time spent on the worksite or at the customer counter with fast, accurate color matches of walls, carpeting, paint chips and inspiration items. Rugged and portable, the Ci61 is meant for precise color measurement on the go.
whether it's across town or across the store. Contractors, property managers, and interior designers can use the handheld, battery-powered instrument to obtain precise color data on-site from virtually any surface! From delicate vases to drywall chips the Ci61 can accurately measure it all. They then bring the data to paint shops for custom-mixed coatings, confident that the matches will be spot-on for the end user.
Store associates can use the Ci61 to give customers a superior shopping experience with fast and accurate color matches on the most challenging items. regardless of their location.
Available Packages:

W61 Color Matching System
Featuring:
ColorDesigner PLUS Software
Ci61 Portable Spectro
18.5″ Flat Panel Monitor
Dell Computer, Keyboard & Mouse
DYMO 450 Turbo Label Printer
Part # W61      Request Quote
W60 Series Downloads
W60 Series Videos